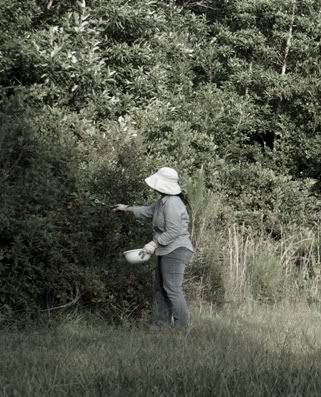 For weeks now a lot of my spare time has gone to the blackberries. Falling in the ranks of the those strange people that get an actual thrill from picking things from a real live plant and then eating them versus the folks that find the aesthetics of supermarket plastic appealing, I was thrilled when I realized the back of the new property is ringed with native blackberries.
However, to be completely honest I had no idea how long picking blackberries took and I'd never truly internalized the meaning of blackberry brambles. Brambles they are thorny, grabby, sticky things that reach out for your hat or your hair. They grasp and take hold of your shirt and your gloves and on the unprepared and uncovered they are certainly willing to tangle themselves in the skin you are in.
Thankfully, I've devised an almost full-proof system for safe and effective blackberry-ing and am only sporting minimal scars from my endeavors. My system includes tongs from the kitchen, heavy leather gloves, a long sleeve shirt, and hat, mosquito repellent and moves that would make my yoga teacher proud. In fact, who needs to practice yoga when they see the most beautiful blackberry just beyond reach and go into the "just a little bit further" blackberry pose?
I do enjoy myself out there. I have a strange sense of accomplishment from picking things my very own self and I've made several pints of blackberry syrup (which I'm here to tell you is an excellent combination with whole wheat flax blueberry pancakes) and blackberry jelly. I also have several bags in the freezer for when blackberry time is done and I need a little blackberry for my morning yogurt. I know it's a simple pleasure but at least it keeps me off the streets and burns some calories (at least until I eat the fruits of my labor).