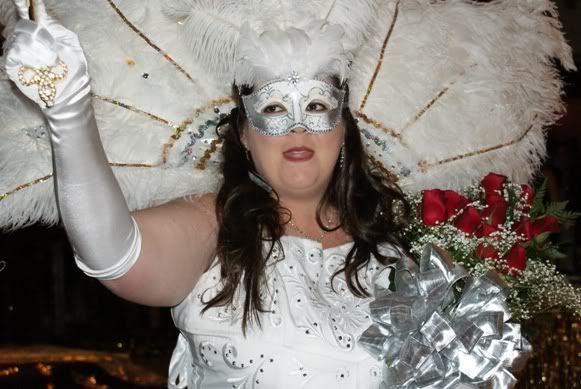 I think the Queen had a good time. I admit I'm jealous of her feathery thing. I'm pretty sure that I would like one of those things to wear around the house, perhaps even wear it to librarian. It's very fun.

I had a good time, cut a rug, ate some food, chatted with lots of people. As is often the case with these types of things there were lots of women, not as many men and of course as the Finman is off in the arctic north there was no slow dancing for this belle. I did manage to show off my moves with that perennial favorite, the dance that simply won't die, bringing fun and frivolity to dances since the 1970's, the electric slide.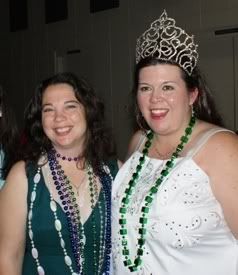 I learned to dance in Almost West Texas in cowboy boots on the hardwood floor of a former high school gym. Imagine my surprise this morning (when I realized after trying to do very simple things like sitting) that dancing in stilettos apparently requires
an entirely different muscle group than dancing in cowboy boots. Who knew?
You may notice in the photo on the right that I was quite sparkly. To be honest, I really feel compelled to mention that I would not normally accessorize to this degree. It is tradition for the court, after the presentation of the current King and Queen to go around the event giving away strings of Mardi Gras beads. In my pursuit of photos I inadvertently found myself at the center of the throng with beads coming from all directions. In fact, I don't think it's an exaggeration to say that
I was in danger of having my lungs collapse under the weight of cheap plastic beads and that I barely escaped with my life.
Again, who knew that a Mardi Gras ball could facilitate so many injuries?
These invitations should definitely come with a health warning.