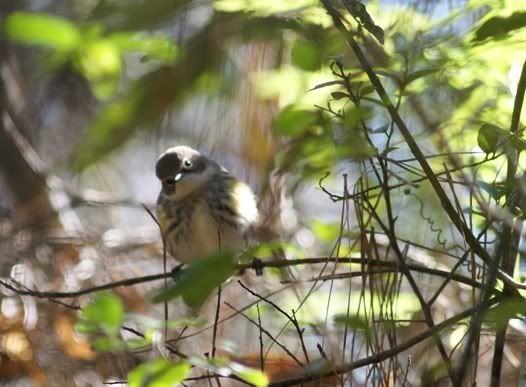 Here we have a Yellow-Rumped Warbler. I've seen these both at the library and a few miles away at home. I find I really enjoy photographing birds and identifying them later. I'm no birder and unless I've seen one before I have no idea about the names of the different birds.
Actually, I guess I might be becoming a birder because I have to admit I find it very fulfilling to able to identify the wildlife around oneself. For instance, to look through the lens of the camera and know that you're looking at another yellow-rumped warbler. Yes, that's quite nice.
About this particular warbler, I really like how the canopy of the forest blurred out around her like an impressionist's watercolor.
And now, lunch is over and it's time to get back to work. Librarianing here I come.