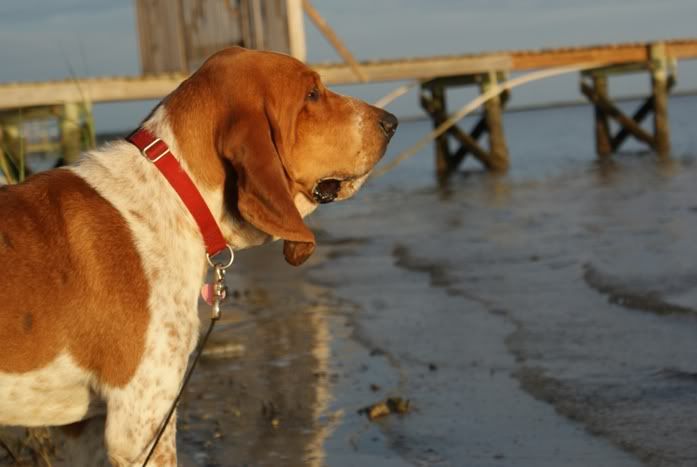 I've yet to write about the new addition to the family. The
FinMan
and I decided it would be appropriate to choose the next canine companion together. We took the opportunity of a this summer long visit to find our new Hound Dawg, Copper.
I will have you know that the American Kennel Club believes above Hound Dawg to be a Basset Hound. Don't laugh, we even have their registered seal of approval telling us it is so, along with three generations of bloodlines. Don't let the goofy grin fool you. He is very noble indeed as his full name is Copper Knight.
One well versed in the world of canines may in fact doubt the veracity of the AKC's paperwork when noticing the impressive size, height, and overall largeness of this Bassett. In the words of Copper's former owner's vet, "What we have here is a throwback gene or somebody else snuck into the kennel."
I'm sure that Hound Dawg's frame, which is still growing, came as quite a shock to the family that bought him. Said family, had retirement in sight, a RV the size of my home (Caravan for some of my overseas readers), and a yen to hit the road. It's hard to see our Hyper Hound Dawg as the ideal RV'ing companion.
This is how our registered hound came to be "free to a good home" on Craigslist and found his way to our neck of the woods. Hound Dawg turned one year old the week after he moved in. (You'll all be glad to know that he had a party complete with cake, pineapple upside down cake.) I'll be the first to admit having a young dog around is quite the adjustment. For a while there, it felt like a canine invasion. Everywhere I looked I saw something associated with Hound Dawg; leashes, treats, towels, toys, brushes, food, etc, etc. Thankfully,the dog paraphernalia is now mostly corralled. Fin says, Copper is in his teenage years. Let me tell you, teenage canines come with a lot of stuff.
That said, he sure is a lot of fun. He and I took our first trip to the beach this evening. He didn't really know what to think of those gentle waves at the beach. I think he found them disconcerting. He definitely did like all the new smells.
At the end of the day, Basset or not, he's all hound and smelling about with that big ol' nose is his thing.