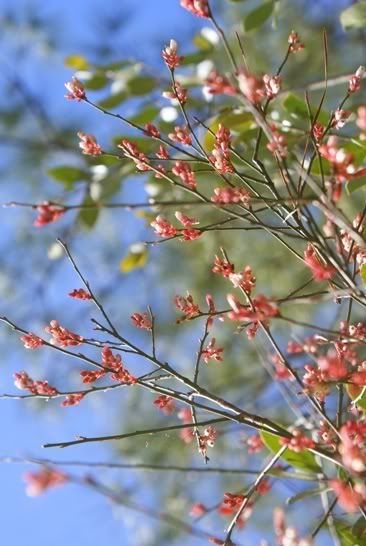 These pink blossoms are one of the first signs of spring in my little corner. They quietly announce that winter is coming to an end and spring really is about to burst forth. I noticed these last year but didn't "do" anything about them. "Do," as in research.
The last two weeks they've been just gorgeous. My mother, a plant genius was over last week but she didn't have any insight. So, I hit the books and then the internet for an identification.
Turns out, I wish I'd bothered to find out last year. These blossoms belong to an Elliot's Blueberry or some call it a Huckleberry and others a Mayberry. Apart, from offering the promise of spring, these little blossoms are getting set to produce a tasty little berry.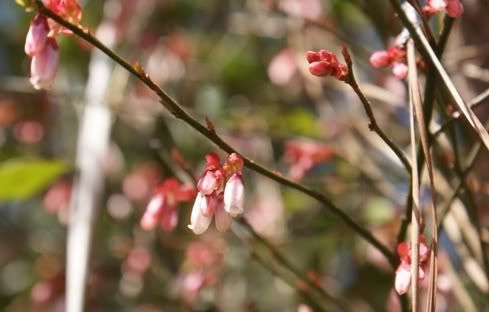 I have three bushes of the Elliot's Blueberry ringing the yard at the edge of the forest. You can believe that this year, I'm going to be watching a little more closely to see what happens and to see if I can beat out the wildlife for a taste.
Floridata
, a great little site that I stumbled across, started by a fellow over in Florida, has a wonderful page on
Elliot's Blueberry
.
As to burying things, I mentioned burying things in the title and meant it in a very literal not figurative sense. When a certain hound dawg finds a dead thing in the yard and you, who have a natural disinclination towards dead things, finally through trickery and cajoling manage to separate the dead thing from the hound dawg's mouth and then announce your plan of burying the small dead thing, know that you should follow your first instinct. Because, if you listen to the person that says, "Really, burying it? That seems like overkill. Just throw it into the forest to decompose" it's a pretty sure thing that while you are on your back at the edge of the forest taking photos of pink and white blossoms against a blue sky, hound dawg will rediscover said dead thing. Only now, the dead thing is three or four days more dead than it was the first time. ICK!