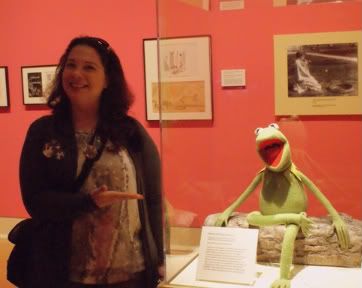 Really, REALLY, please ignore my bad, flat hair.

Instead, focus on my photo companion, world famous Kermit the Frog. Yes, last week, yours truly met a personal hero at the Mississippi Museum of Art. I was lucky enough to be in Jackson the last week of a traveling Smithsonian Exhibit,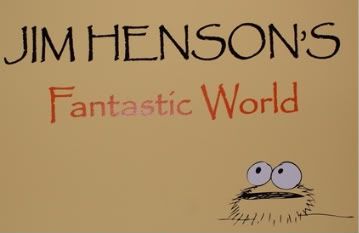 It was a smallish exhibit, but had lots of great interactive media features that made it fun. I really enjoyed seeing the early Henson creations and watching the evolution of ideas into the characters that became so well known in Sesame Street and on The Muppets. Turns out, a good deal of Jim Henson's childhood was spent in Leland Mississippi. It's hard to imagine Kermit without the influence of Mississippi swamps and backwaters. It was a great learning experience and of course it really pumped me up for planning the library summer reading puppet show.

My favorite thing of the whole day happened as we were leaving the museum. I stopped in the museum store to ask the clerk about nearby dining. She was just so darn cute and helpful, I shouldn't call her cute as she's my age but still... She told me of a couple of places and gave me directions. Then, as I was about to leave she adds, "You know, in THE BIG CITY, restaurants are in the ground floor of office buildings. They don't stand alone." I immediately thought, "Oh how cute." My second thought was, "Are you referring to Jackson Mississippi as the Big City? Really?" I must have been projecting country girl that day (must have been the bad hair). The good news is that given the fact that she was doing her best to be helpful, I didn't say a single snarky thing. I just thanked her and went on. But really, Jackson population 130,000 and change is THE BIG CITY? Perhaps, that woman needs to get out more.