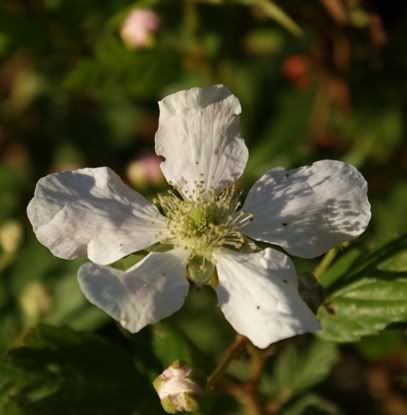 Tonight, dinner was "Blueberry Pancakes for Dinner Night". I'm almost to the end of the '09 blueberries that I horded in the freezer
.
As
Fin
helped himself to the blackberry syrup he asked, "When do the blackberries bloom?" I replied, "They're blooming right now." "Oh good" Fin answers, "now we don't have to be stingy" (with the syrup).
I pointed out that we won't have blackberries until May (the end of May). He then pointed out to me that it was a good thing it was the end of April.
Of course, although I tell Fin that we have to use the syrup sparingly because it's only a renewable resource once a year, the truth is that each time he (or I) spoons out a big pancake swallowing helping I flashback to weeks on end of coming home from work and then out to the blackberries to wrestle those luscious little berries out of the bramble. I remember the countless scratches, blackberry canes trying to eat my hat, and then the hours of processing berries, boiling juice, heating the water for the water bath, and getting jars and rings ready. When the last blackberry was processed and put away last summer, I knew that I might never give any of that syrup away. After all, I'm the only one that will ever be able to truly appreciate the value of one of those little jars of syrup.