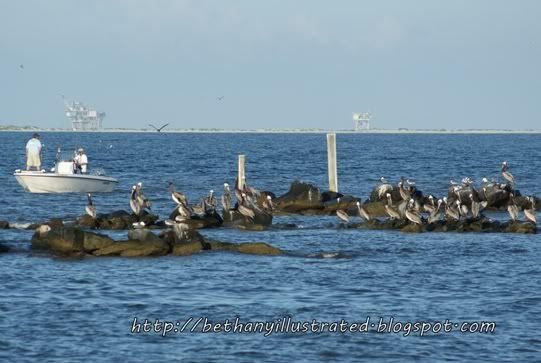 I'm making a definite effort to keep my online life from "being all oil spill, all the time."

This is more difficult than one would imagine. I'm just so appalled by the oil. I know that by the end of the summer, when BP finally gets their relief well drilled, and the oil is finally (hopefully) done surging freely to the surface (or floating away in plumes under the surface) that the
rest of the world will be burned out on coastal crisis. I know that the short attention span of the general public both national and international will be turned to other things. I know that some camps are tired of hearing about oil even as I type. I know that there will be other disasters and and it is natural for the world to move on.
Yet, when I think about the oil, all I can see are the least terns diving and fishing off Ocean Springs East Beach. I see how free and lovely they looked last Friday as Fin and I kayaked.
I think about Louisiana Congressman
Charles Melancon emotional in front of his peers as he said, "Everything I know and love is at risk".

I think about my frustration with our government at both state and federal levels. A government busily singing a refrain similar to that of Little Orphan Annie, "The sun will come out tomorrow" and glossing over and sitting on real information about the oil spill, from the amount of oil actually polluting the Gulf to the real number of animals already impacted by the spill.

When I think about the oil, I have a very difficult time not allowing it to dominate my online life.

Tonight, I sat down to write a non-oil entry. Yet, the non-oil words don't come. When I contemplate how so much in my adopted home, so much of what I "know and love is at risk" the words about oil can't help but dominate.