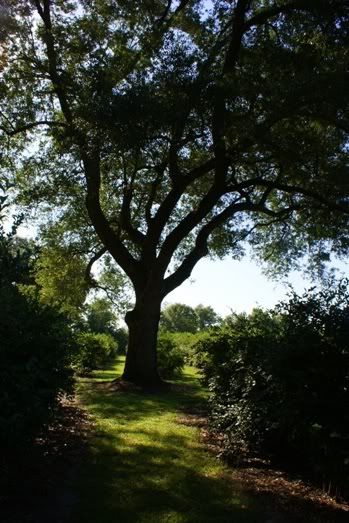 Long time, no blog.

It's summer.

Summer is:
Hot
Humid
Busy for Librarianing
Blueberry Harvests
B.P. Oil Spill

Exhausting
Dealing with death and dying
Cutting Grass
Tending the garden
Walking the Hound
FULL
Yes, I've been a bit overwhelmed. There are so many words in my head that I don't even know how to start getting them out. I do miss this little corner. It's a bit bleak knowing that there is no point in checking in as I know for a fact I haven't blogged.
Hopefully, things are calming down and I will stop here more often.
The photo to the left is of the lovely hundreds year old oak tree that shaded my Mother and me last Saturday at the U-Pick Blueberry farm. We had a lovely morning. We both ran into friends and were able to catch up with others and each other. Plus, most of labor was spent in the shade, which made our time very pleasant. Now, there are lots of berries in the freezer ready for pancakes, muffins, yogurt toppings, and who knows what else. Yum!