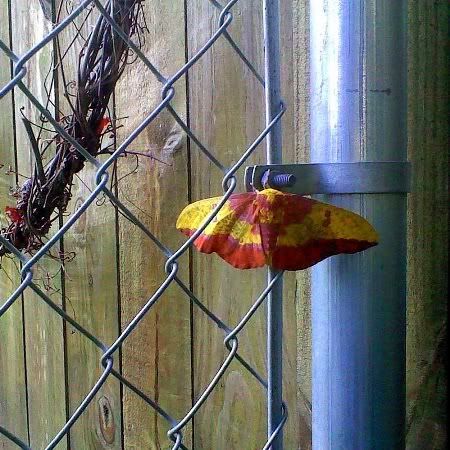 On the way in from my walk with the Hound Dawg Tuesday morning, I noticed a leaf stuck in the mesh of the chain link fence. Even though, I was rushing because workday mornings are one continual blur of rush, something about that leaf just didn't "set right". Perhaps, it was because it was near the water oak and leaves from the water oak are generally brown or varying shades of green as they turn. Perhaps, it was because the leaf was yellow and there were no other yellow leafs around. Or perhaps, my brain didn't catalog it on the way out for our walk and it was a new addition to the landscape.

Whatever it was, it merited a closer inspection.

Turns out, that part of brain that keeps an eye out for the unexpected was right on target. I'd found my first Imperial Moth. Sadly, my camera was safely locked away in my work office, where I left it on accident, 25 miles away. Thankfully, I was able to improvise a photo with a photo from my webcam. I wish I could have gotten the detail, because this bugger is gorgeous.

You know, these guys, like some other moths in the moth world don't eat at all in their adult/moth stage? As a person that enjoys both cooking AND eating I find that very disturbing. I guess the upside is that they do consume quite a bit as caterpillars.