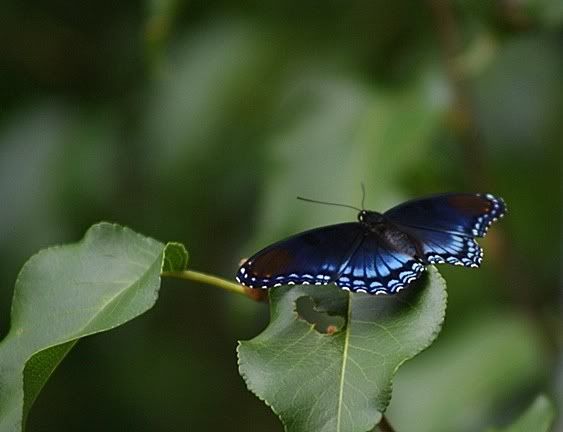 I know it's hot outside. In fact, here in muggy coastal Mississippi, sitting under an oak tree at lunch it feels like we corner the market on hot. However, if you can manage the heat, this is one of my most favorite times of year.
The butterflies are a bumper crop this year. As they tumble and toss around on the wind in the library parking lot and at the tree line in my backyard they look like a fantastic moment in time captured by a silly Victorian romance. They are just too beautiful to ignore. In fact, as I watch them in flight, time seems to slow and then snap back into place as the butterflies flutter out of view.
Above, is evidence of my first sighting of a
Red-Spotted Purple
. The blue on this fellow often has it mistaken for a Pipevine Swallowtail. In fact, that was my first guess until I took a closer look. Isn't he beautiful?
So, if you haven't, take some time and look around. I know the butterflies aren't only cruising in my neck of the woods. What do you see where you live?