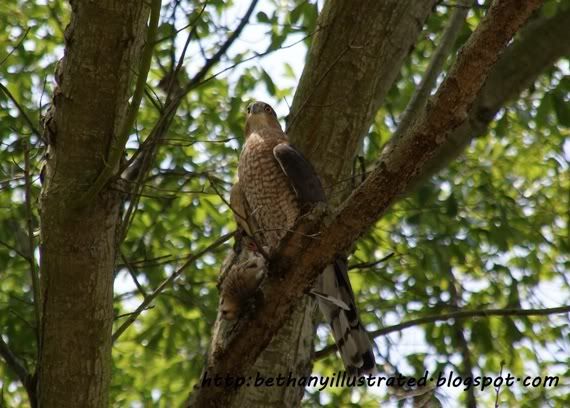 This post is certainly not for the cuddly Precious Moments kind of nature lover.

Yesterday, this Cooper's Hawk and I had lunch together, in a manner of speaking. I was lunching at the picnic tables outside the library when he flew in. As he is about to have lunch and I was having lunch, I'll count it as dining together. The colors are muted so you may not notice at first that he has another smaller bird in his talons. I believe it's a Mourning Dove, though it's a little difficult to see. Apparently, Cooper's Hawks are very fond of Mourning Dove and will even take them out of their nests on occasion. Then, they just squeeze them a bit until they're uhm... dead. Sometimes, they've been known to hold prey under water until the prey drowns. The Cooper's Hawk is nothing if not efficient.
Don't you all wish you had this kind of lunch time excitement?