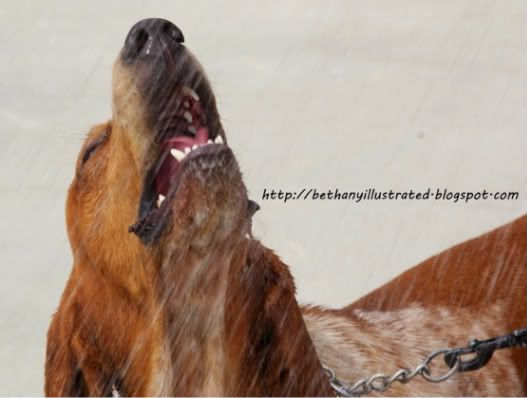 The Finman, Hound Dawg, and I all found ourselves at the beach this afternoon. We decided to try out the new beach front on Front Beach in Ocean Springs. In truth, it's not that new. I guess people have been enjoying it all summer but we generally visit a different beach when we beach walk.

The improvements made to the Front Beach post Katrina are very nice, wide sidewalk with an attractive seawall, fire pits, and those little shower thingies to wash the sand off yourself when you leave the beach. In fact, if you glance above you'll observe that Copper Dawg thought the shower thingy innovation quite nice on a warm sunny day. We hit quite a few of those as we meandered the length of the beach.

I was very glad to see that they've used native plantings in the landscaping. In a few years, barring catastrophic hurricanes, the beach front will be even more attractive.