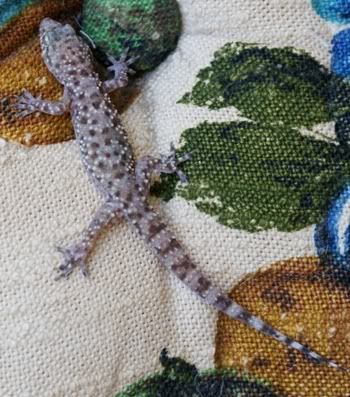 I have a gecko problem. It started when moving furniture from my storage facility to the new house. I'd wedged myself between the metal wall of the building and a wing chair, referred to in another time as the "ugly chair" when I noticed paper thin egg shell casings on the very dusty and soon to be thrown away slipcover of ugly chair. I looked up at Big Sis and said, "There are gecko eggs on my chair". Big Sis, immediately asked what everyone continues to ask when I tell them this story, "How do you know what gecko eggs look like?" That was a stumper, I mean can't most people identify gecko eggs when they run across them?
After an appropriate amount of time marveling over the delicacy of gecko eggs the move was back underway and Big Sis and I continued to load furniture, including ugly chair, into the back of her truck. Once back at the new house, with the truck backed as close to the house as we could manage it was time to unload. As we unloaded ugly chair I decided to strip off the old slipcover that had become irreclaimably dirty during its tenure in storage and walk it back to the trash can by the shed. All this time, I must admit to a niggling worry that "where there are gecko eggs there may also be geckos". Sure enough as I began to strip off the old cover I opened the gate for a gecko stampede. Well, actually it was only one gecko, but he was fast, he was fierce, and he was the vanguard.


Now trust me, as this happened a few weeks ago and I've repeated the story more than once, I have already been informed many times over that, any naturalist in training worth the title naturalist really should embrace darting reptiles and not consider such wonderful and helpful creatures at all menacing or otherwise disconcerting. This is apparently true, even if an angry horde of geckos, disturbed from their cool weather digs, charge you from concealed pockets in your furniture. So forgive me when I tell you that immediately on seeing the darting gecko I "screamed like a girl" which I am, or rather I'm a woman but was at one time a girl and ran away with heart racing, leaving Big Sis in my dust to face the wrath of the gecko. Big Sis true to her inquisitive, fluffy, love the whole world seminarian heart immediately started cooing and rapturing over our new cold-blooded guest. A guest, that hightailed it for pines at the first opportunity. Meanwhile, my run headed me straight to the camera. Sadly, I only to got back in time to see gecko one leave in a blur.


With my heart rate somewhat calmer I was ready to get on with the moving gig and continued with my task of uncovering ugly chair. I really shouldn't have been surprised when gecko two ran for my face. I mean, "where there are gecko eggs..." Gecko two actually posed for the camera, allowed Big Sis to love on him and was then content with a new home on the privacy fence. (I haven't seen him there since, but I do sense that he's nearby.)
Prior to this experience, I actually had no idea that geckos truly were the darlings of the reptile world. It seems that in disparaging geckos you may open yourself to a barage of recriminations worthy of a Senate Subcommittee Investigation. I've also been informed that naturalists should be no discriminators of reptiles.


Let me state in my own defense that I have no problem with geckos that choose to live outdoors, eating bugs, making the world a safer place. It is only when they stake a claim in the folds of my furniture and dart about in defense of said furniture that I find geckos truly objectionable. Surely for a habitat they could find a better place.
In fact, I'm sure they could have found a better place than the box that held my hand-tool leather bag bought years ago on a trip to Mexico City, or better than snuggled between my book boxes, or amongst any number of my possessions. Yes, the ugly chair geckos were only the beginning. I'm still finding geckos. I know for sure at least one is living somewhere in the house, there are untold numbers still in the storage unit, and I found one today nestled in the folds of a hammock chair I was hanging. So while I continue to acknowledge that geckos have a wonderful job to do in this world I also maintain that geckos (and their eggs) do not belong in your furniture much less amongst boxes spoiling and despoiling possessions. Call me a bad naturalist but I'm ready for these geckos, darlings though they may be, to find another home.


*A naturalist note about the geckos in question. After realizing that the geckos in my gecko infestation had a very exotic look, and reminded me a bit of a leopard gecko I used to work with in the education program at a zoo, I had a bad moment or two thinking that I'd contributed to the introduction of a non-native species into the wilds of coastal Mississippi. Thankfully, after some research I was able to put my fears to rest. I did have a bit of trouble finding an identification simply because these guys are non-native. Thank goodness, I'm not the one that let him out. This particular gecko is the Mediterranean Gecko and ranges from Florida across the Gulf Coast although he is also continuing to spread north from Florida as well. Oh, and he also ranges in well, the Mediterranean.