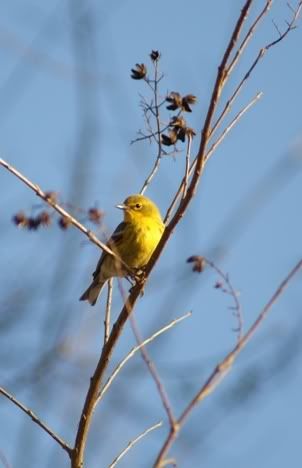 This pine warbler greeted me as I left work on Monday. It's the first time one of these guys has stayed put long enough for me to capture (in a photographic sense) him. Most people that use the internet and also bird know that Cornell University has one of the best websites around for birds in North America. They are also very active in the observation and science of birds. In fact, they just finished their annual Backyard Bird Count in which they harness the power of volunteers across the nation to count birds in their neighborhood. I only had two days that I could count and took counts at my house, our local park on my lunchtime, and the library.
I found it very challenging as there is so much bird activity here, even in a small area. This year the library partnered with the local Audubon to promote the bird count and it was very exciting to see how people became aware of the their surroundings when looking for birds. I still have people coming in to tell me the birds they saw on their walks.
If you're interested in reading up on my handsome friend in the photo, read
his page
over at the Cornell All About Birds site.