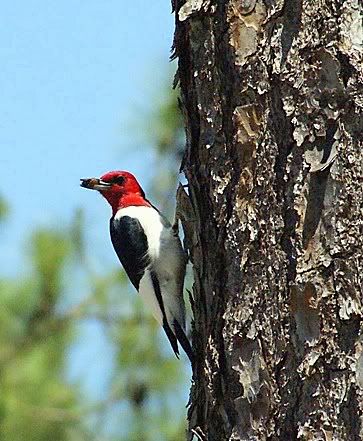 Something I truly enjoy about my life at the moment are the good friendships that have developed between me and some of the Moms from past and present storytime groups. When I first moved to Mississippi I thought that this would be a very temporary stopping off point in my life and due to that I didn't encourage or seek out a social network. Thankfully, over time a network of interesting and sometimes diverse people that I respect and have fun with has found me.
During lunch I often take my lunch and camera and walk to our town park to enjoy a little time outside of the library observing the natural world at large. Usually, at least once a week I meet up at the park with two of my friends and their children for lunch. This has really become a highlight of my week. Last Wednesday, while we were eating and chatting I caught a glimpse of bright red fluttering between the ground and a tall pine tree. Thankfully, my friends are pretty forgiving of my peculiarities and didn't mind when I grabbed my camera and wandered away to see what I could see.
What I saw was a Red-headed Woodpecker. The Cornell
All About Birds
site has some interesting information about this fellow. Apparently, these guys live here year round. However, this was the first time I've run into one. This could be explained by the fact that they are "near threatened". I was really impressed with the vivid colors he sported. This is one of the most boldly colored birds I've run across with a crisp clear hard line between each of his three colors, no gradual fading from one tint to another.