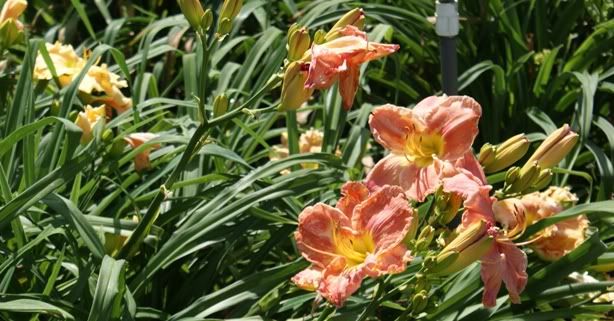 Yesterday, was the annual picnic for my Mother's Daylily Club and I was able to attend as a guest. Every year the club takes a summer break and the last meeting before summer is a picnic at a Daylily member's house. This year the club met in Agricola Mississippi, a small community north of the Coast. As the name suggests, the town boasts a heavily agricultural foundation with lots of commercial plant nurseries, cows, and grain silos. You know, rural country stuff.
To be perfectly honest, I used to tease my Mom a bit about belonging to a club devoted the cultivation of one flower. It seemed an easy venue for poking fun. Can't you all see the comedy sketch, little ladies in hats and competitive old codgers vying to produce the most extraordinary daylily of them all? Oh, the intrigue, the drama... the judging.
Now however, I've reformed my ways and while I'm not a daylily grower, I see the beauty and variety these folks turn out. All of the members, are quite devoted to their flowers and I can't think of a nicer way to create community for oneself than by coming together with a group of like-minded flower growers. Yes, devotion to the propagation of beauty really shouldn't be a subject at which to poke fun. So, soldier on daylily growers, may your passions bring more beauty into world.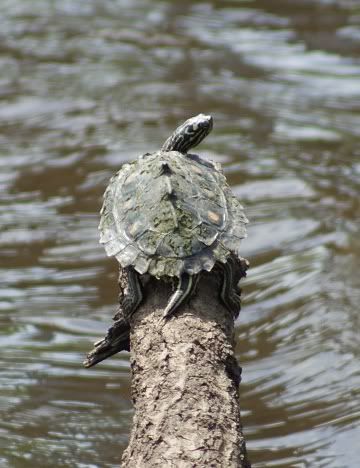 Now then, for the trip home and a little naturalist excitement. Speaking of people at which to poke fun, naturalists sure are easy targets. Truly, even I know that most of the world might find it laughable that my highlight for the day was catching a turtle sunning on a log in the Pascagoula River.
On our way home, my mother and I pulled off beside the Pascagoula at one of the many boat launches. I'm sure most would wonder why catching sight of a turtle enjoying the sun could be in any way extraordinary. Yet, this turtle is special.

This the Yellow-Blotched Map Turtle, or as it is sometimes known the Yellow-Blotched Sawback Turtle. This turtle is endangered in Mississippi and Federally threatened. While, I live very near the largest concentration of these turtles this is my first time to see one in the wild. This is wonderful stuff on the naturalist front. Poke fun all you will, this turtle IS exciting.
(On a sober note, I think it is important that I mention that the Pascagoula River has made the list for the top ten most endagered river systems 0f 2009. This is mainly due to a shortsighted Department of Energy plan to pump 50 million gallons of fresh water a day from the Pascagoula to flush the salt from underground salt domes in Richton Mississippi to provide more storage space for the Federal Oil Supply. This salty slurry will then be dumped into the Mississippi Sound. This impending ecological impact/disaster is quite honestly the stuff of nightmares for those that treasure the natural world.)