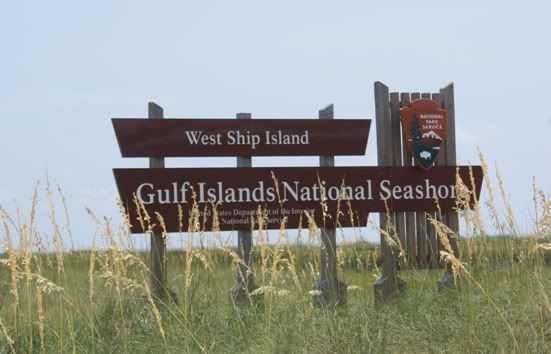 Yesterday,
the Finman
and I loaded up and headed to Gulfport to catch the noon ferry to
Ship Island
and Fort Massachusettes.
During our trip across and due to Fin's extraordinary abilities (charm), we found ourselves in the midst of the action chatting with Captain Buck about having a wheelhouse for an office, whether or not he watched Deadliest Catch, learning the history of the particular ferry boat on which we traveled, and looking at the more-impressive-than-ours GPS. Most of the time, it is very good to be a passive southerner in the wake of a more determined "New Yorker". (Don't tell Fin I called him a New Yorker. He has a very concise answer for why he is not one in actuality.)
Once on Ship Island, we took a quick ramble around the Fort and then in an unusual role reversal, Fin stayed for the actual tour while I headed down to the water for a quick dip in the Gulf of Mexico. Generally, I'm the one waiting around for the tour while Fin either finds something else to do or trails along humoring me.
As we weren't interested in a toasty sun soaked afternoon we soon gathered everything up and headed back for the 2:30 ferry ride back home. It turned out to be the perfect mix (for us) of water and history without sunburn. This trip definitely adds Ship Island to our recommended visiting sites on the Gulf Coast.