Last week Fin, Hound Dawg, and I were on an evening ramble at dusk. We were were not far from our little bungalow when another animal emerged from the forest and strolled leisurely toward us. It took a few moments for hound dawg to realize we had company, but soon he was straining at the leash to see our visitor.
Meanwhile, I was beginning to feel a bit anxious. "Fin," I said, "I think there's a fox on the road." "Oh that's not a fox, it's a cat or someting," Fin replied. "No, I mean it. I think that's a fox up there," I insisted.
It's important to remember that it was near dark and visibility was poor. This explains why both Fin and I were wrong.
Indeed, the animal walking toward us, showing no particular concern for our presence was to the best of our combined googling and polling of other people in the know, a neighborhood coyote. WOW, definitely a wow moment. Neighborhood Coyote was so nonchalant about the whole thing that we had time to take Hound Dawg back to the fenced yard, grab my camera, and get back for some visual documentation.
Sadly, the light was very bad and the subject, while not reticent also wasn't particularly interested in posing for photos.
This coyote thing was exciting. Fin and I talked about it all evening. I mean, it was VERY exciting.
At least, it was UNTIL about 9'oclock when it was time for Milton the Furry Feline to come in for his dinner. Then, there was no Milton. I called, and called, and called... And, walked around the house and called some more. Finally, I had no choice but to give up and go to bed.
First thing the next morning, I was out the door looking for Milton. Actually, I half expected him to be waiting on the railing of the porch. No Milton. At this point Neighborhood Coyote was a recurring theme in my thought process. I went back in to make the coffee and stew a bit.
Then, it was back outside to the porch. As I stood there, considering what kind of mouthful my furry Milton would make for Neighborhood Coyote, my eyes lighted on the shed. A memory stirred.
Fin, had mowed the day before. He had the shed open to get the lawn mower. Could Milton be tucked away in the shed?
To the shed I went, calling Milton as I walked. As I approached the door, I began to hear a distinctly unhappy feline alerting me to his presence. Meeeeoooooowwww... MEooooow...
Whew, what a relief. Milton spent a night without dinner and water but as Fin put it, "The bright side is that the shed is decidedly coyote proof."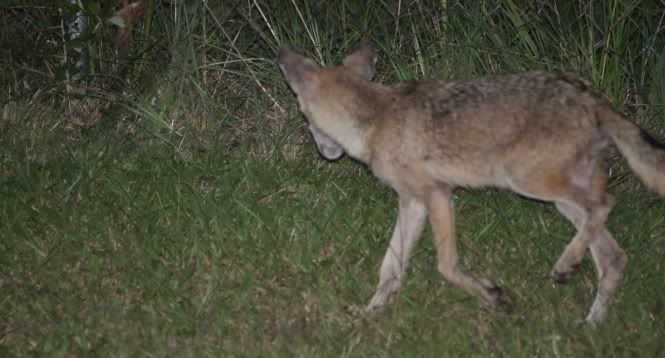 In other news, and for those keeping up, as of yesterday, the Finman is back in New York for a few weeks before heading back south.