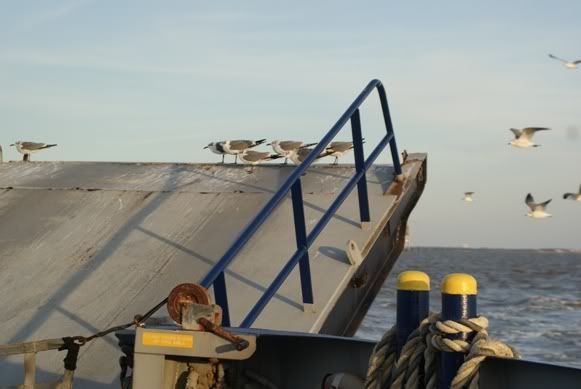 This past weekend Fin and I went on a little day trip to Coastal Alabama. The goal, at least for me, was to take the
Mobile Bay Ferry
which connects Gulf Shores and Dauphin Island. We loaded up the hound dawg and had a beautiful ride. BUT, oh my was it cold!
Growing up in the middle of Texas, there weren't a lot of opportunities to hop on car ferries. Since meeting the
Finman
, I've spent more time on the East Coast and had more ferry riding opportunities. I love them.
Do those birds up there look cold? I thought they were very clever to hitch a ride.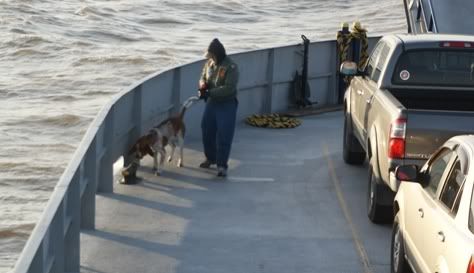 I was very surprised when the ferry attendant told us hound dawg was allowed out of the car.
Last weekend, the cold was refreshing in the way that cold weather is refreshing in a place where average winter temps are in the mid 50's (farenheit). Today, however this unusual cold weather has become, well unusual. The library closed early and tomorrow morning is in limbo due to predicted freezing temperatures. People that deal with freezing temperatures only a handful of times each year aren't really equipped for real winter weather.
Of course, this is nothing compared to what many in the nation are facing. The big deep freeze sure is making itself felt in big ways.
Tonight, in honor of the most wintery, winter I've seen since I left almost West Texas I'll leave you all with one of my favorite winter garden quotes which I feel can be viewed with both a literal and figurative lens:
In a way, winter is the real spring - the time when things happen, the resurgence of nature.
~Edna O'Brien