I'm the newbie at work, kind-of. I'm not new to the library organization and I've met most everyone in the library system over the years but I am one of the newbies in administration.

As the new kid on the block, things are actually going well. Everyone is warm and friendly and so far I've managed to only page everyone in the entire building once when trying to set up my voicemail on the building wide phone system. My little calendar is bulging but I've yet to embarrass myself by missing meetings and I've been very brave and asked questions even when I thought I should have known the answers. I'm still a bit confused by the hierarchy of coffee pots but as I bring my own freshly brewed hazelnut from home this is a non-issue except in terms of curiosity.

Last week, I had the most enjoyable experience. Our Director, set up a meeting and tour at the local NOAA (National Oceanic and Atmoshperic Administration) library and facility. I'm afraid I did not, as Fin would say, cover myself with glory. I did pretty well in the building, managed to walk about like an actual adult. (I might have been a bit exuberant when they let us tour the labs and gave us our safety goggles.) Sadly however, I immediately deteriorated to "kid in a candy store" when they took us to tour one of the new research vessels, Pisces.




I turned into a camera clicking fool and lost any semblance of vocabulary. "Wow!" and "This is SO COOL!" I was a definite gonner by the time the dolphins swam off the port side of the ship. Seriously, there in the shipping channel, two dolphins.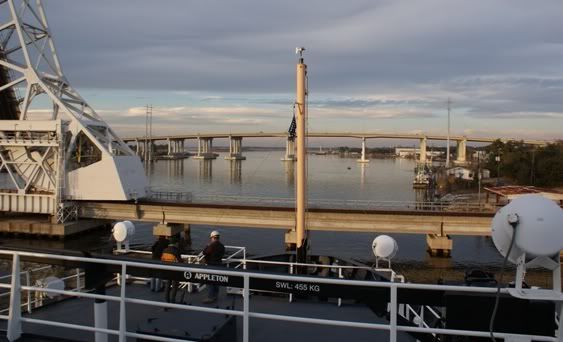 I mean really, who could remain calm under these circumstances? Can I be blamed for a few exuberance leaks? I work with children, I'm supposed to be excited.