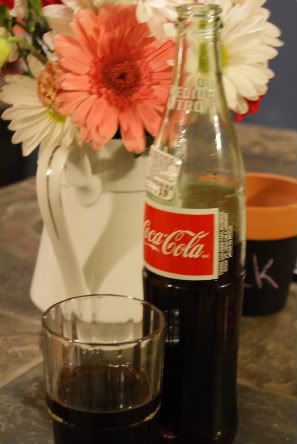 Here we have a "just because".
To our left, we see a liter coke bottle from the Latin Store I discovered on the other side of town. One of the things I've most missed in my move "way down south" are tamales, good tamales. I happened to ask the owners (en
inglés
because I no longer have enough Spanish to tackle anything more challenging than "my name is..." or "where's the bathroom",
admittedly
important phrases but almost useless at the Latin Store) if they knew anyone who made good tamales. The inevitable answer was, "But yes, my sister does." I then was connected with Yvette the sister and hooked up with a dozen tamales. Now, Yvette's tamales are very good, but I'm afraid that she might have
gringa
-
fied
the ones for me because they had about as much spice as oatmeal. Yvette and I must tactfully revisit this in the future.
The true success of the visit was the discovery of Mexican Coke, which for reasons unknown to me tastes different than the US version, and I LOVE it. Of course, I try not to drink coke but I couldn't resist. These things take me back to a visit to Mexico City and daily orders of "
una
coca en
bolsa
", the practice of serving coke in a plastic bag with a straw so one does not pay the bottle deposit. Now, years later more than Pyramids or Cathedrals, when I think of Mexico City, I think how good that coke in a bag tasted after a long day of work at the student center near campus.